There are a number of reasons why health insurance claims are rejected. Although this doesn't happen very often, when it does take place, you should be in a position where you are mindful of the steps you need to follow.
In this article, we provide you with a guide on why your health insurance claims got rejected and what to do if your health insurance claim is denied.
Reasons for Health Insurance Claim Denial
1. Submitting Incorrect Information
Giving your health insurer wrong information is one of the key reasons for health insurance claim rejection. Some health insurance applicants deliberately input false information in their health insurance application form for the purpose of getting a lower premium.
Sooner or later, health insurance providers will discover such wrongdoings. Therefore, it is best to always provide correct and authentic information in your health insurance application form.
2. Incomplete Paperwork
If you have not completed the documents as required by the health insurer, your health insurance claim will end up getting rejected really easily and health insurers will not settle claims for you. This is also important whenever you transfer your health insurance policy to a new health insurer or when you transfer a group health insurance policy to an individual one. So keep in mind that you must always fill in all the required information in every document that your health insurer needs.
3. Invalid Health Insurance Policy
If you fail to renew your health insurance policy and the policy becomes lapsed then your health insurance claim will not be approved either.
4. Health Insurance Constraints
As long as you make a health insurance claim for any medical condition that the health insurer does not provide coverage for, your claim will not be processed. Imagine a guy gets treatment for serious injuries that occur from taking part in an extreme sport. If this matter happens to be listed in the exclusion items in the policy wording, then the health insurer is in a position to turn down the claim.
5. Your claim is considered unjustified by the health insurer
For instance, unless the health insurer discovers that you actually do need to get hospitalized for your treatment, then your health insurance claim will be processed.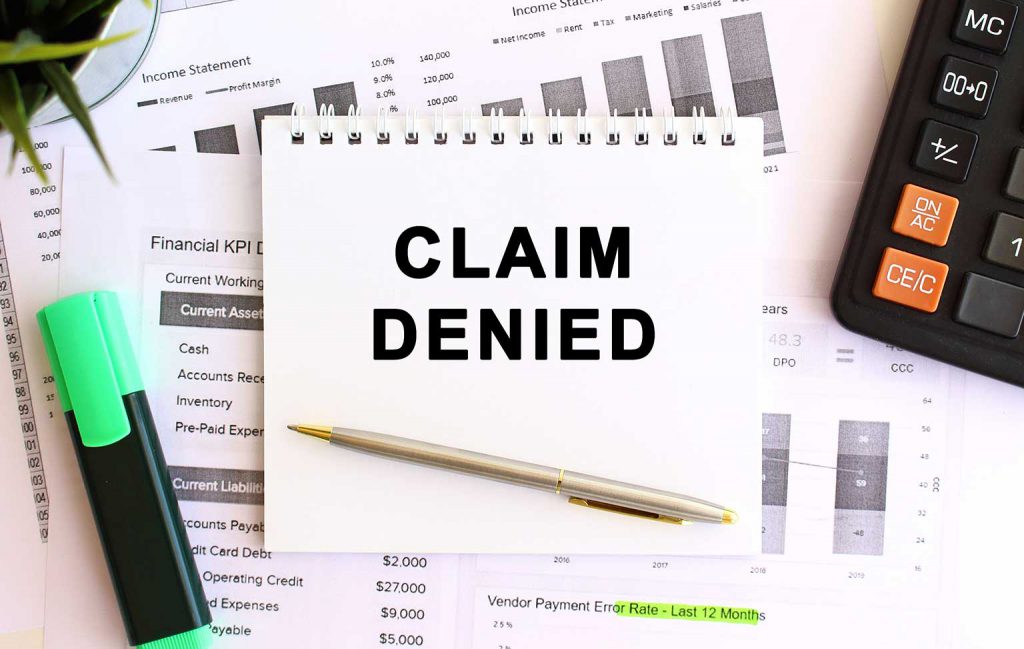 Things to do if your health insurance claim is turned down
1. Re-file the health insurance claim with accurate information
First of all, go ahead and notify your health insurer about re-processing the claim. Collect the information and find out where you were incorrect.
While you are inputting information in the claim form the second time, you can turn to where you bought the policy from to help you with this.
2. Inaccurate Documentation
Make sure you submit all the necessary documents this time especially those that went missing previously. This includes all the medical documents such as hospital discharge summary, original hospital bills and doctor's certificates.
Even if the medical provider you get treatment with is not active when it comes to providing all the important medical documents, you would have to follow up with them by yourself and make your health insurance claim a priority for them as well.
3. Give physical evidence to support that hospitalization was required
If the reason for your health insurance claim denial is no requirement for hospitalization, then you can provide the health insurer with your physician's medical prescription that recommends hospitalization.
In addition, do submit the diagnostic reports prior to hospitalization. It would be brilliant if you can persuade your insurer that it was necessary to undergo the treatment and be an inpatient for more than hours and your claim must be initiated.
Takeaway
On the whole, perhaps try applying the tips mentioned above when you face a rejection of your health insurance claim. It is advisable that you be authentic, provide accurate details and perhaps ask some experts for advice. Then definitely your claims will be processed smoothly.