Yermolai has been residing in Ho Chi Minh City (HCMC) for 6 years since relocating from Russia. "Moving to Vietnam has been great and I am now happy to call it home." explains Yermolai, who has since married after arriving in the country. While his time as an expat has been enjoyable it hasn't been without incident. 
"My first asthma attack happened in the middle of the night. I suddenly became awake and started wheezing and then was unable to breathe. I was very scared." Yermolai shared his personal story.
"At that moment I had no idea what just happened. I grabbed a drink of water and as soon as I got back in our bedroom, the symptom just disappeared.
One week later it took place once again when I was with Hanh outdoors. I started to wheeze and found it difficult to breath. So, Hanh drove me straight to Vinmec Central Park International Hospital where they informed me that it was asthma. I felt a little more relaxed to realize what it was exactly. My thought at that time was "I can now do something to fix the real root cause."
"I needed to learn to live with it, to live life in a new way. It is true that there were things I was unable to do. However, I learned what the factors that caused my asthma were and I started to keep it under control fairly well. The factors are pollen, aerosol sprays and the odors from bleach.
Asthma attacks still happen to me today and may take place about three to four times a year. I can't be reckless about going outdoors. On a given day, if there are plenty of pollen outside, that is sufficient to trigger my asthma."
"When you realize that you have asthma, you have to be mindful of using an inhaler the right way. It is pretty difficult at first. You have to know your triggers really well and avoid them as much as possible. However, if you are unable to really avoid them, then face them with some protection. For example, wear a scarf over your face if there is plenty of pollen outside."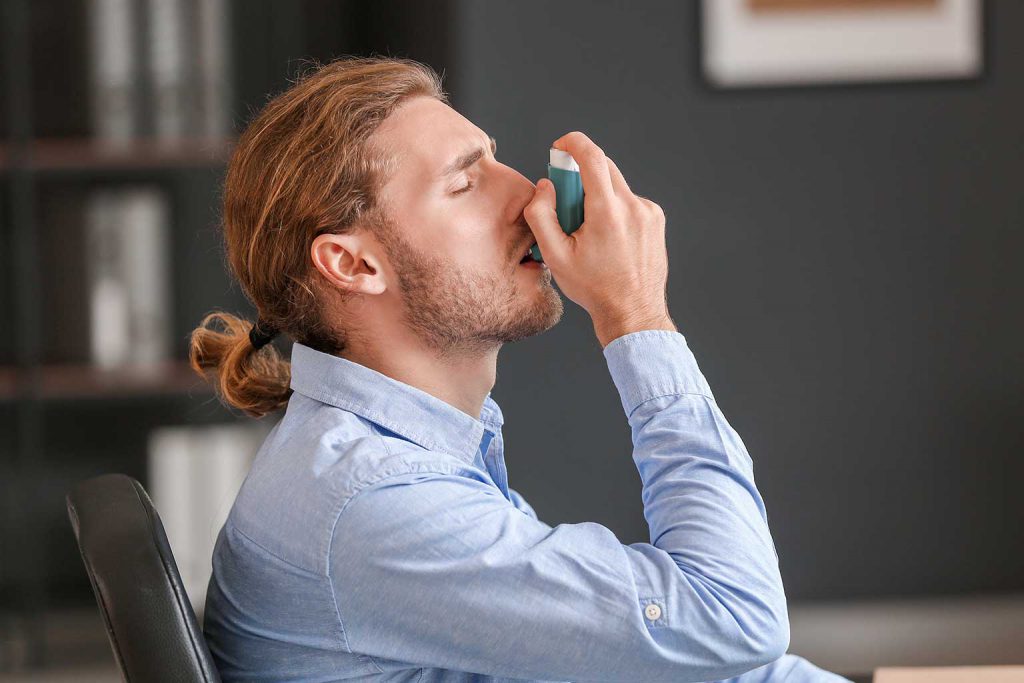 "At the moment, I can control my asthma. I manage it by myself. However, I have lately had to change my lifestyle. I can't go for walks with my wife and golfing. It was one of my favorite outdoor sports. Now I can't play golf as much as I did a couple of years ago due to the pollen. You need to be careful of what is in the air these days once you are diagnosed with asthma.
I had to stay indoors and shut the windows almost every time. I have to use fans to stay cool in when the weather is hot.
My doctor has told me to remain as physically fit as I can, so I come up with an indoor exercise plan. I have a feeling that I am doing pretty good. Over two years have passed since I have had to get to the emergency department of Vinmec Central Park International Hospital." 
He continued, "although many people say that healthcare in HCMC is generally not decent, from what I experience healthcare provided by Vinmec Central Park International Hospital, on my own, I have to say that it is one of the best medical providers in the city!". 
When the doctor put BiPAP (bilevel positive airway pressure) on you, that is so terrified but it is an inconvenient truth in that you are being kept alive merely by this particular medical tool.
"The reason is the international medical insurance policy, that I had with me, worked very well with the hospital. The claims process was straightforward and hassle-free. I was covered for all the different methods of medical treatment for asthma which was brilliant. The bill for my delivery was direct billing, meaning that it was paid directly to the hospital. This way I had no need to pay first and claim back which was brilliant. It was impressive when you did not need to make an out-of-pocket payment." He had an open discussion.
He went on saying "Many of my friends who visited public hospitals in HCMC tell horror stories of the treatment of asthma. Insufficient cutting edge medical equipment and barely any English-speaking medical staffers and most of the time. I do appreciate this can't always be the case."
"If I had to select a single best piece of advice for those who were going to get treated while in Vietnam I would let them know that it is definitely worth it to have medical insurance. The medical insurance I arranged has been able to pay for all of my treatment and I have found my claims paid exceptionally quickly. I never thought that I would need to use it the way I have but now I have the peace of mind knowing it is going to protect me."