Burmese food is renowned for being wonderfully flavorful and exotic. There are dozens of choices when it comes to delicious and healthy dishes in Myanmar, but here we have put together an expat guide to best Burmese dishes along with some popular Burmese desserts. 
1. Mohinga (fish soup) 
Recognized as Myanmar's national dish, Burmese dish Mohinga is one of the most popular Burmese breakfast dishes. Basically, it is a dish where rice noodles are put in a fish soup which also contains banana tree stems, garlic, ginger, lemongrass and onion. The cuisine varies from location to location. There are choices of topping galore including batter-coated fried pieces of fruit, meat or vegetable.
2. Nan Gyi Thoke Mandalay
Myanmar Nan Gyi Thoke noodles is originally from Mandalay. It is a modified variation of noodle salad. Nan Gyi Thoke ingredients include rice noodles, chicken curry, boiled eggs, lime, onions, coriander, chilli powder, gram flour and crispy fritters.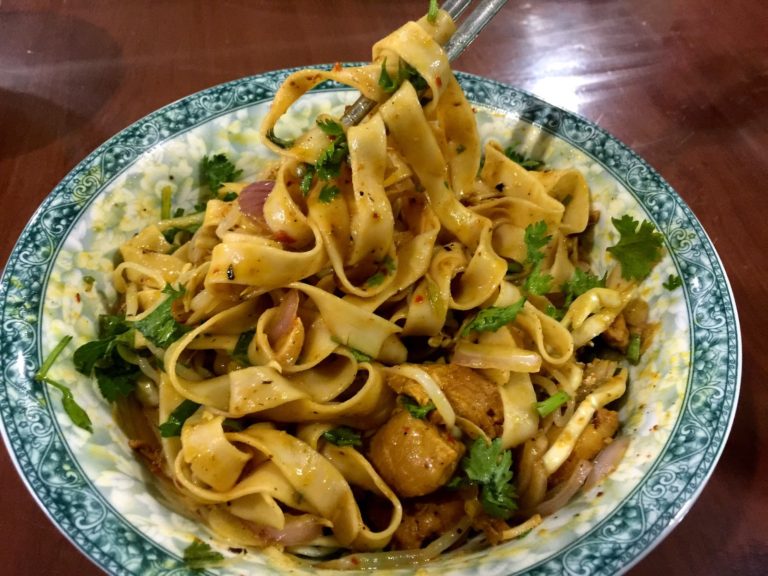 3. Tohpu Nway (Shan Tofu soup) 
Burmese Shan Tofu soup is a dish that originally stems from Shan region of Myanmar. Its main ingredients include water chickpea flour (besan flour) and turmeric. The tofu in this dish is the thick yellow ingredient. You have many options of topping including chili paste, cabbage, parsley, sesame seeds and smashed nuts.
4. Shan Khao Swe (Mild Tomato Noodle Soup) 
Shan Khao Swe is Burmese Shan noodles with mild tomato soup. Its ingredients include tomato paste, crunchy fried beans, fritters and hot broth. It is usually eaten as a breakfast dish Myanmar and its origin is Shan state of Burma. To get a vegetarian variation, you need to order "thut thut luh". The vegetarian dish is slightly drier and the taste varies when you order it in Shan State. It is popular with both Myanmar expats and local Burmese nationals alike.
5. Myae Oh Myi Shae (Vegetable Hotpot)
"Myae Oh" means a clay pot and "Myi Shae" is the name of the curry. "Myae Oh Myi Shae" is inspired by a popular Chinese street food dish. This dish is prevalent particularly in Yangon. It is made up of chicken breast, chicken bones, sausages, quail eggs, kale, cauliflower, broccoli, wood, ear mushrooms, faux meat, sea weed, rice noodles, dried tofu, dried Mee-Shay salt, spice, soy bean paste, pepper and preserved mustard.
6. Lahpet Thoke (Burmese Tea Leaf Salad) 
Lahpet Thoke (also known as Burmese Tea Leaf Salad) is a vegetarian Burmese dish available throughout Myanmar. It is like to be on the Burmese menu of almost every Burmese restaurant in the country. The dish comprises fermented tea leaves, nuts, cabbage, tomato, oils, mung beans, ginger, sesame, bean sprouts and green tomatoes among other variations.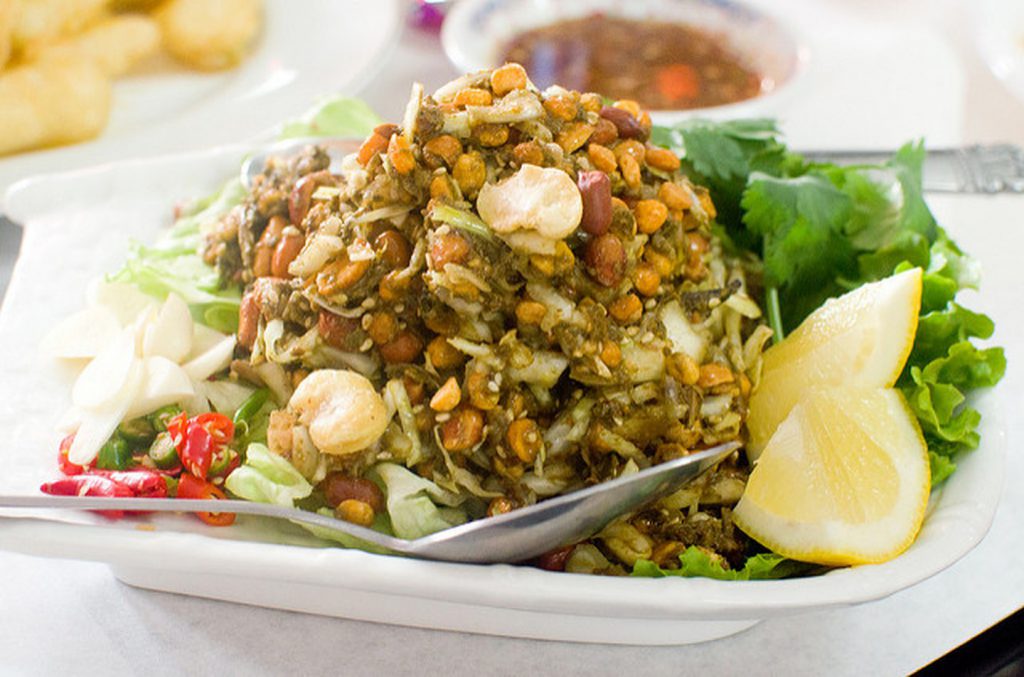 7. Pone Yay Gyi (Fermented Bean Paste)
Pone Yay Gyi is fairly local and can be found mostly in Bagan. It is a dish that consists of fermented soy beans and usually eaten with rice. It serves as a topping for your rice for more flavorful taste.
8. Kaut Nyin Paung (Beans and Red Rice)
Kaut Nyin Paung is typically a breakfast Burmese dish in Shan State and Mandalay. In Shan State, it is steamed with a special type of cooker while people in other cities cook it just like normal rice. Shan people consider soft rice not good whereas steamed glutinous black rice has firmer texture and is more pleasant.
9. Burmese Khao Suey (Khow Suey) 
Khao Suey or alternatively Khow Suey is a Burmese dish served in a mildly spiced coconut milk sauce and served with a variety of toppings. Its ingredients include creamy coconut milk sauce, tangy lime, crispy garlic and fresh onion, cilantro and green onion.
10. Burmese Dessert: Shwe Yin Aye
A Burmese dessert called Shwe Yin Aye means "cooling down your golden heart" is typically served cooled. Its ingredients are bread, coconut milk, jellies and ice cream. Dipping the bread in the coconut milk and sprinkling it with jellies on top or any other topping of your choice is the traditional Burmese way of eating it.
Takeaway
On the whole, eating healthy is not only about having salads and boiled chicken breast. Take your appetite to the next level by perhaps adding the jigsaw piece of Burmese food!