A+ International Health Insurance
A+ International Health Insurance offer a wide selection of medical insurance policies for both individuals and groups. They are a specialist provider of medical insurance plans, backed by some of the largest insurers on the market, AXA and Pacific Cross.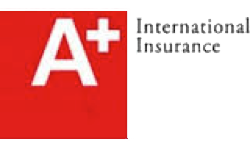 About
All A+ International Health Insurance members receive access to a wide range of services including: The A+ Medical Insurance 24h service access and the freedom to choose any hospital, clinic, doctor and specialist with A+ International Insurance's guarantee of payment facility.
Underwritten by Axa France, A Plus excels with its range of Southeast Asia plans which are very competitive with both benefits and premium. These specific A+ International Health Insurance plans are for expatriates based in Cambodia, Indonesia, Laos, Malaysia, Myanmar, Thailand, Philippines & Vietnam. The options available are A+ Medical Insurance Essential, A+ International Insurance Essential Plus, A+ International Health Insurance Serene and A+ Medical Insurance Serene Plus.
Plans
The Essential plan provides 100% Inpatient and day-patient surgery, while the Plus version adds cover for Inpatient Psychiatric care & Outpatient treatments within 15 days before hospitalization and up to 30 days after hospital release. The Serene plans provides 100% cover for Inpatient & Outpatient treatment, while the plus version adds Inpatient and Outpatient Psychiatric care.
Useful Info
A+ Medical Insurance Easy Care
In 2017 A Plus launched their new Aplus Easy Care plan range designed to provide very affordable cover to a younger audience especially healthy young expatriates in Asia. These plans have proved very popular giving members the essential cover they need while living as an expat and still allow cover at any medical facility within the region of cover.