Today we are delighted to announce that the comparison feature for annual and monthly premium rates is now available on both the desktop and mobile version of our website.  
i-Brokers' Premium Rate Comparison feature has been built right into i-Brokers.com and is super easy to use. This great new feature helps you find the best option for you to pay your insurance premium.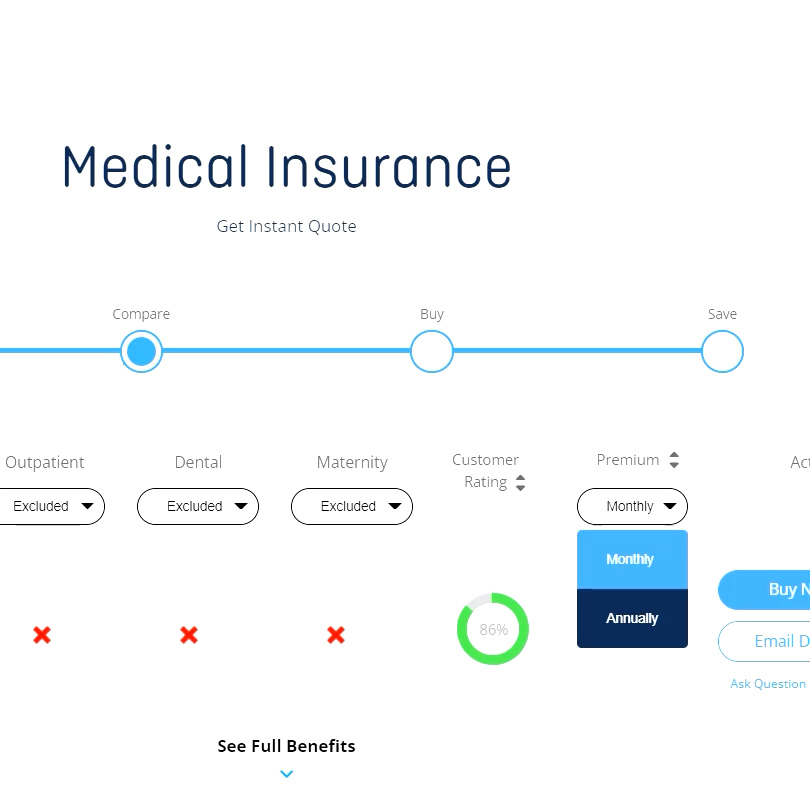 Why is this important?
Did you know that there is a big saving to be made on your medical insurance by just changing how you pay for your plan?  
When it comes to paying your insurance premium, making an annual payment is almost always cheaper than making monthly payments, regardless of which insurer you're with (although not everybody knows about this), although each insurer is different in the cost comparison they have between their monthly and annual prices. 
Many health insurers give you a discount for paying in full because it costs more for the insurance company if a policyholder pays their premiums monthly since that requires manual processing each month to keep the policy active. There is also less risk to an insurer when they capture the premium upfront knowing that the policy won't be claimed on and then cancelled on the next monthly payment cycle (yes, this does happen). 
So, who charges what and what savings can be made?
Here we have listed the charges for each insurer and the difference you will pay between a monthly and annual payment. 
Insurer

 

Annual Surcharge

 

 

Monthly Surcharge

 

 

 

IMG 

 

0% 

 

20%  

 

Aetna International 

 

0% 

 

12%  

 

Cigna Global 

 

0% 

 

10%  

 

ALC 

 

0% 

 

9%  

 

Morgan Price 

 

0% 

 

8%  

 

Vumi 

 

0% 

 

6%  

 

Expatriate Group 

 

0% 

 

6%  

 

Allianz 

 

0% 

 

5%  

 

AXA Global 

 

0% 

 

5%  

 

Now Health 

 

0% 

 

5%  

 

Optimum Global 

 

0% 

 

5%  

 

Healthcare International 

 

0% 

 

0%  

 
 As you can see, if you have an IMG insurance plan, you are able to get a 20% discount for your premium if you change your monthly payments to annual payments, a dramatic difference. The average percentage of discounts from all our insurance partners that you would get if you made annual payments for your premium is 10%. 
Of all the insurers in the table, Healthcare International plans are the cheapest because there are no monthly surcharges at all, which is no difference in cost. 
Do all insurers provide monthly payment options?
Not all insurers have monthly premium options. Examples of those insurers are listed in our table below. 
Insurer

 

 

Annual Surcharge

 

 

Quarterly Surcharge

 

 

Bupa Global 

 

0% 

 

0.015% 

 

April (HK) 

 

0% 

 

5% 

 

Luma (Vietnam) 

 

0% 

 

8% 

 

Integra Global 

 

0% 

 

10%

 
On the website, we will display monthly surcharges for those insurers which do not have one by dividing their quarterly surcharges by 3 and then assign these values in the field "monthly surcharge" for those insurers.  
Takeaway
Have a play with our monthly/annual premium comparison feature and see how much discount you can get and which insurer offers the biggest discount. If you like it, come back more often! 
Tell us what you think of this feature by leaving comments below or drop us an email at [email protected]. We would love to hear from you!