Remote working has increasingly been a trending topic of discussion so far due to the presence of COVID-19.
Providing healthcare benefits is a difficult, painstaking process, especially for fully remote companies whose employees work in different cities. Everyone needs healthcare coverage, but not everyone truly understands it.
Making poor decisions regarding your company's health insurance or simply not offering it could cost your company time, money, and — ultimately — employees.
Therefore, in this article, we are going to share with you some tips to understanding, searching for, and providing the best health insurance plan for your remote employees. 
As a company with remote employees, is it necessary to provide health insurance as a remote company?
The answer is a firm "yes" as in accordance with SHRM, to remain competitive in the talent marketplace, one out of three organizations increased their overall benefits offerings within the last 12 months, with health and wellness benefits being the most likely to experience growth.
1. Group Health Insurance Benefits
Shopping around for individual or family plans can be difficult and expensive for employees. Group coverage is often a lot more flexible.
With group coverage, which applies to businesses, insurance premiums and coverage won't depend on your employees' personal medical histories.
Instead, the insurance company will gather basic demographic information about the group members, such as age and geography, to best assess potential health risks.
2. Employee Satisfaction and Retention
Health insurance is a big deal to a lot of people for a variety of reasons. As a remote company, you may find that health insurance is the one benefit that will really sell a candidate to your company.
Offering health insurance shows that you truly value your employees even though you're not a huge corporation. In addition, studies show that offering health insurance increases employee loyalty and decreases employee turnover.
3. Healthy Staff Are Productive Staff
Simply put, employees are more likely to work their best when they feel their best. Employees without health insurance are less likely to get yearly checkups or visit the doctor when they aren't feeling well.
This, in turn, can lead to a decrease in productivity. If their health grows worse, they may take time off work, which may hurt your bottom line. In addition to health insurance, consider implementing wellness programs.
Although providing health insurance will cost you money, time, and effort, the benefits will greatly outweigh the costs. Now that you see the benefits of offering health insurance to your employees, let's explore a few tips to help you acquire it for your company: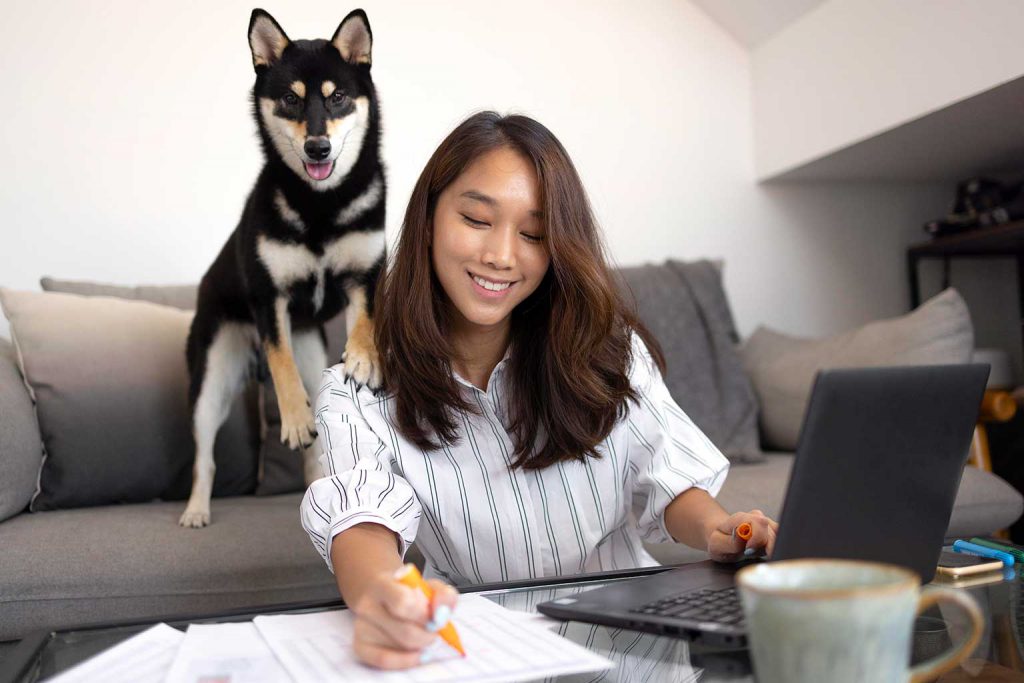 4. Do Your Research
Before you begin exploring options, do your initial research to find out what kind of coverage your employees will need.
You may want to conduct an anonymous survey to gather demographic information such as age, location, dependents, etc. so you can take that information to an insurance professional.
5. Partner with a Specialist
As previously mentioned, you must glean a ton of information before you can offer health insurance. Even knowing what you don't know can be extremely tough. Consider partnering with a company such as i-Brokers that specializes in benefits and has vital information readily available.
6. Keep Your Remote Staff Updated Throughout the Process
As a fully remote company, you have the opportunity to be fully transparent with your employees. Be sure to keep them updated throughout the process, and allow them to feel comfortable asking questions and knowing what resources will be available to them.
As mentioned above, partnering with a good, knowledgeable company can help you address additional questions, concerns, or problems that may arise.
Now that you know the benefits to providing health insurance, as well as a few tips to help along the way, you should feel much more confident with taking the leap. Remember, happy employees are productive employees!
7. Typical features of the best health insurance plan for remote employees
The best health insurance plan for remote staff should have the following features:
• The plan allows your remote company to add your team to the same plan regardless of location. The insurer with the best health insurance plan for remote workers should operate globally so you can hire the best talent in the world.
• The plan lets you add and remove team members at any time. Whether your staff are on a full-time salary, a part time contract or somewhere in between.
• The insurer with the best health insurance plan for remote employees should provide your team dedicated 24/7 support from day one. In your time of need, you should never have to wait on hold.
• The insurer should have an easy to use platform with a simple overview of your company's insurance details and covered members.
• The plan should scale with your company and offer lower price and extra benefits as your number of members grow over time.
• The plan provides customizable add-ons such as dental, vision, maternity, screenings and vaccinations and non-hospital visits to ensure that you have the perfect insurance for your company.
• Full coverage in the US, Hong Kong and Singapore can be added to the plan.
• The plan covers pre-existing medical conditions for companies of more than 10 staff members. However, a waiting period may be applied based on a case-by-case basis.
• The plan should offer a repatriation benefit which will take your team member who has been evacuated for treatment back to the country they were evacuated from.
• The plan can be used for Visa requirements to many countries based on their specific requirements.
• The plan should offer the option of direct billing for payment.