Welcome to the ultimate guide on the healthcare system in Pattaya for expats. Expats living in Pattaya have many different activities to get engaged in both during the day and at night due to its bustling nature. Nestled along the picturesque coast of Thailand, Pattaya has become a haven for expatriates seeking an idyllic blend of tropical beauty and modern amenities. Yet, as enticing as this resort city may be, understanding the nuances of its healthcare system is paramount for expats looking to ensure their well-being during their stay. This guide navigates the intricate landscape of healthcare in Pattaya, offering insights that enable expatriates to make informed decisions about their medical needs. It is important to understand health care in Pattaya and what you might need to think about should you ever need to seek medical treatment.
Here we have compiled a practical guide for Expats in Pattaya on how to get the most out of healthcare should you ever need it. (If you'd like to learn more about medical care in Thailand for expats, click here.)
Pattaya Public Hospitals
In public hospitals in Pattaya such as Queen Sirikit Naval in Sattahip District and Red Cross Hospital in Sri Racha District, the medical personnel can speak limited English and waiting times for treatment are typically long. These two reasons make private hospitals in Pattaya more popular with expatriates residing in the city.
Pattaya Private Hospitals
Private hospitals in Pattaya are decent and meet the Western standard. They house English speaking doctors and medical staff. Some of them have even been trained abroad and internationally educated. The queues for medical treatment are not as long as those in Pattaya's public healthcare system.
Some of the most popular private hospitals in Pattaya for inpatient care include:
1. Bangkok Hospital Pattaya
Bangkok Hospital Pattaya has superior medical amenities than its rival hospitals in Pattaya due to its international standard. It also provides expatriates with curative and diagnostic services and has expertise in cardiology, cosmetic surgery, spinal surgery and neurology.
Location: 301 Sukhumvit Rd, Muang Pattaya, Bang Lamung District, Chon Buri 20150
Phone number: 038 259 999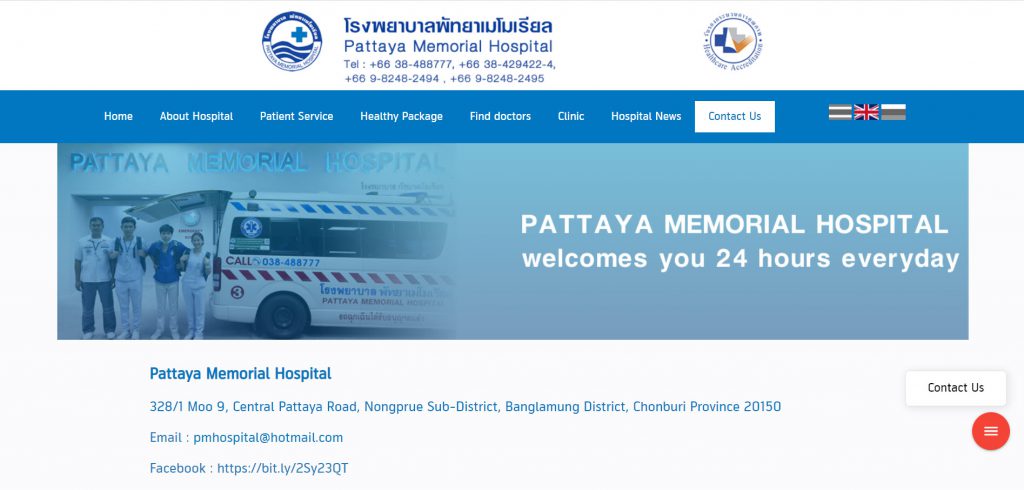 2. Pattaya Memorial Hospital
Pattaya Memorial Hospital is Pattaya's first private hospital. It has relatively comprehensive medical facilities in comparison to other Pattaya hospitals. Its medical specialty is obstetrics and gynecology. It would provide great service when it comes to mothercare in Pattaya.
Location: 328 1 M.9 Central Pattaya Rd, Muang Pattaya, Bang Lamung District, Chon Buri 20150
Phone number: 038 488 777
3. Pattaya International Hospital
The hospital offers international standard facilities for operative procedures and intensive care facilities. It is in the city center of Pattaya which is only a 5-minute walk from town's breathtaking beaches. It has a calm environment that helps to heal.
Location: Soi 4, Beach Road, Chonburi, Pattaya City
Phone number: 038 428 374
Emergency in Pattaya
Expats can call the following Pattaya emergency phone numbers:
Hotline number 1669 for Emergency Medical Institute of Thailand, but for this number, be sure to have a Thai speaker to handle the call for you.
Tel: 038-488-882 for Sawang Boriboon Volunteer Ambulance Service.
Doctors and Health Clinics in Pattaya
There are a number of Pattaya medical clinics that cater to expatriates settling in the activity-oriented city of Pattaya. Below is a list of doctors in Pattaya categorized by type of medical expertise.
1. General practitioners for Pattaya heath check ups, Ear, Nose, Throat (ENT) doctors and diabetes doctors in Pattaya we find the most popular work at the so-called premier health center Bangkok Hospital Pattaya. At the hospital, there is a dedicated department called Diabetes Mellitus (DM) & Endocrinology Clinic for this matter.
2. Many expatriates in Pattaya find Dr. Anna of Bangkok Hospital Pattaya along with other physicians there the most popular skin doctors in Pattaya to treat skin cancer.
3. There are two most popular alternatives when it comes to great English-speaking eye doctors in Pattaya. One can be found at Pattaya Eye Center and the other at Bangkok Hospital Pattaya's Eye Center. At Pattaya Eye Center, look for Dr.Nattawat as he particularly specializes in cataract surgery.
Pattaya Dentists 
As a member of the Pattaya expat community, if you are looking for dentists in Pattaya who are adept at the following dental work types: dental braces, dental implants, dental whitening, dental veneers, dental crown and dental surgery, here are some dental clinics, dental centers and dental hospitals that we see the most popular with expats in Pattaya
1. Dentist Pattaya Dental Center 
If you live in the southern part of Pattaya, this is the dental venue for you. The staff there speak good English and are always willing to help you with your dental issues.   
Location: 111/69-70 South Pattaya Rd., Banglamung, Pattaya City, Thailand, Pattaya, Chon Buri, Thailand 
Phone number: 086 324 8990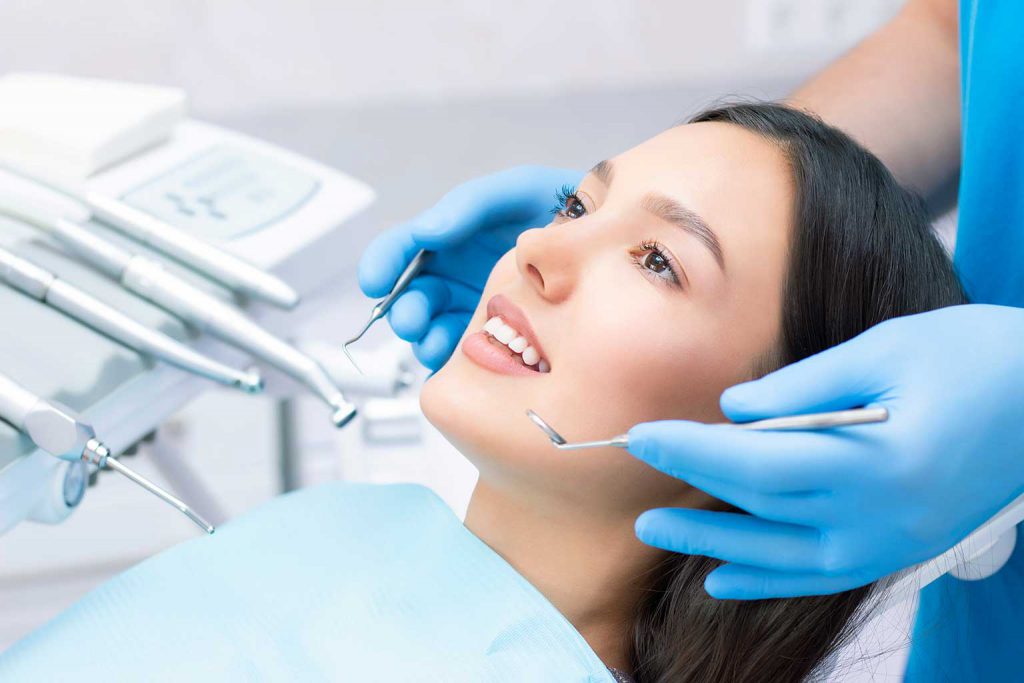 2. Dental Smile Pattaya – Dr Cherry 
If you are looking for friendly dental staff and fantastic dental service with reasonable prices and discounts, look no further than Dr. Cherry of Dental Smile Pattaya. They have expertise in cosmetic dentistry. 
Location: 313 42-43 Pattaya 3rd Rd, Muang Pattaya, Bang Lamung District, Chon Buri 20150 
Phone number: 038 723 460 
3. German Dental Clinic Pattaya – Michael Schlatter 
This expat-friendly international dental center consists of dental personnel who can speak German, English and Russian. Many expatriates have come back here due to their friendliness and dental expertise.  
Location: 162 / 197 Moo 10, Thappraya Road, Soi 9, Pattaya City, Bang Lamung District, Chon Buri 20150 
Phone number: 038 251 289 
Pattaya Dental Clinic 
The costs of dental treatment in Pattaya are about the same as those in Bangkok, so are the servicing levels. However, they are much less than those in your home country which is why Pattaya is a fascinating destination for dental tourism. In more detail for the actual figures, please visit the links below
http://centralpattayadental.com/dental_price.html
https://www.doctorsmilepattaya.com/price-
Our Advice 
As a member of the expat community in Pattaya, being mindful of where medical and dental amenities are located in your particular area of Pattaya before a medical emergency happens is very important. You also need to know the costs of medical treatment they are going to charge on you. 
Make sure you are aware of the whereabouts of your nearest and most accessible embassy just in case any undesirable incidents take place. It is best to check with your health insurance provider whether the medical insurance plan you are getting includes every benefit that really matches your health requirements and the needs of your loved ones. 
It is always crucial to remember the whereabouts of medical and dental care providers in case any emergency case ever takes place. At i-Brokers, we take great pride in offering the best service possible when it comes to insurance. 82% of consumers who compare insurance with i-Brokers find lower premiums. Can you afford not to? Click here to get a quote on your medical insurance. Choose an insurance plan that best suits your requirements and the needs of all the people you care about. Here's a story about Brandon, an expat from Los Angeles, who relocated to Pattaya and had an emergency medical condition which was taken care of by his international medical insurance policy.