It is undeniable that visiting a foreign country has become a challenge for many during the COVID-19 pandemic. Many countries have closed its borders and implemented entry restrictions.
However, the Thai government has recently started to ease some of the strict measures regarding entry for tourists and long stay visitors by launching Phuket Sandbox.
Phuket Sandbox plan is a new model that allows travelers who are fully vaccinated to enter Thailand without quarantine. The program was starting on July 1, 2021, before Thai borders will be fully reopened. Phuket is set to become the first Thai province of this "sandbox" model and tourists visiting the island will no longer need to be quarantined.
In this article, we provide you with an in-depth guide to Phuket Sandbox's new entry requirements, other relevant guidelines and which insurance can be accepted to enter Phuket.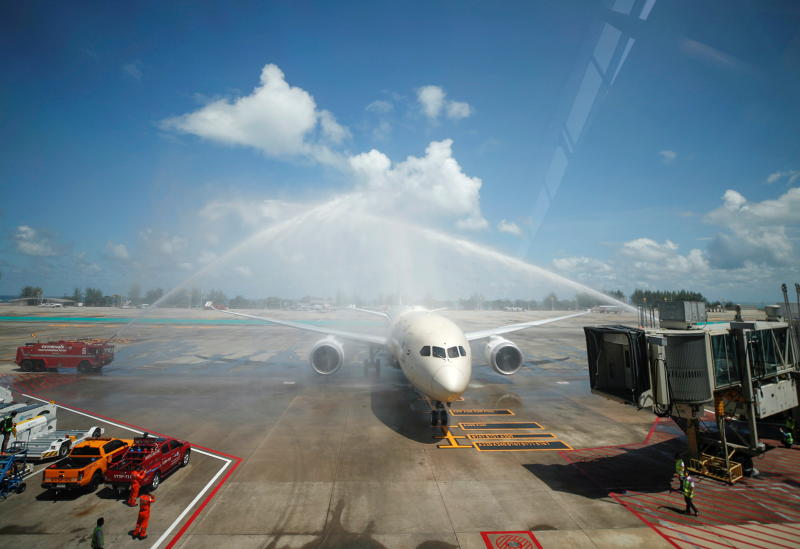 Latest Update
As of July 29, 2021, Tourism and Sports Minister Phiphat Ratchakitprakarn said tourists will have to spend seven days on Phuket and be tested for COVID-19 twice before they are allowed to travel through the sealed routes to Krabi, Phang Nga and Samui, which will open to tourists in August.
Sealed routes to Chiang Mai and Lamphun will open in October, said the report.
Mr Phiphat added that Hua Hin district in Prachuap Khiri Khan and Cha-am in Phetchaburi province are expected to welcome foreign tourists from October 1.
Bangkok and Pattaya, which are still 'dark red' zones for high risk of COVID-19, will remain closed until the fourth quarter, Mr Phiphat noted.
Buri Ram province will also remain closed, with the cancellation of the Thailand Motorcycle Grand Prix, he added.
Who can travel to Phuket from abroad?
• Vaccinated Thai and foreign travelers from low and medium risk countries
(Please see the full list of allowed countries here)
• Unvaccinated children under 18 years old traveling with vaccinated parents
Note: Unvaccinated adult travelers will be required to undergo mandatory quarantine at any alternative local quarantine (ALQ) hotels in Phuket for 14 days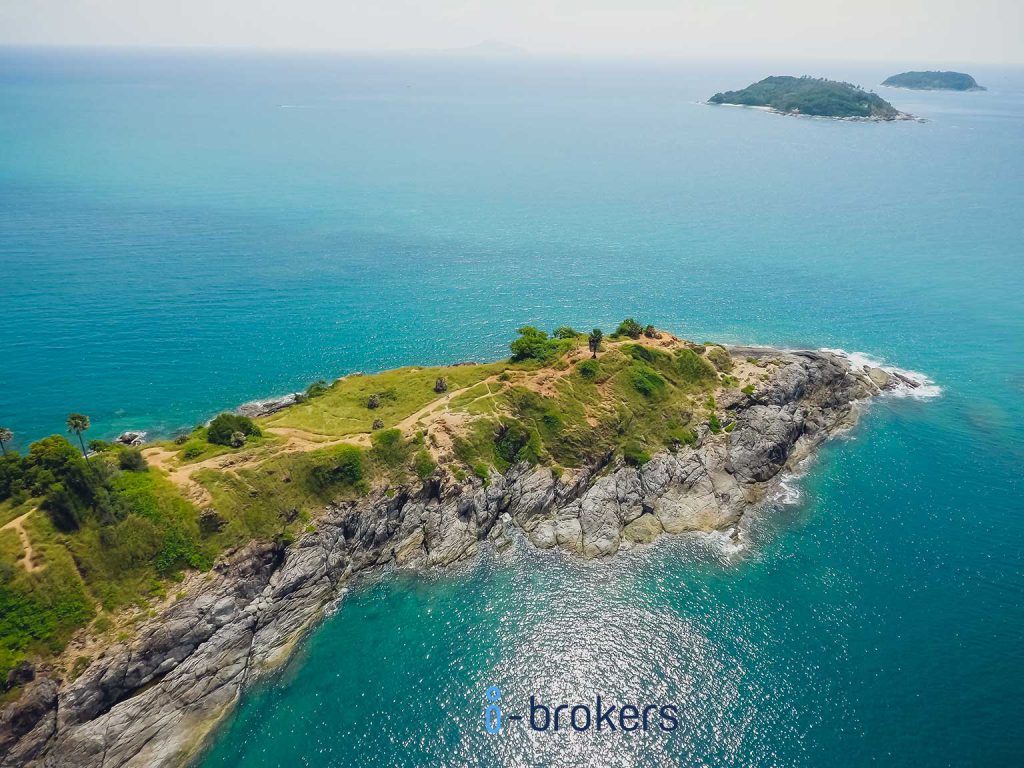 Phuket Sandbox Requirements
• Vaccine Certificate/proof of vaccination
• ThailandPlus alert application on mobile phone
• Reverse Transcription Polymerase Chain Reaction (RT-PCR) test before arrival and during your stay in Phuket
• COVID-19 Insurance
• Certificate of Entry (COE) issued by Thai Embassy/Consulate
• Stay at SHA+ Hotel in Phuket
(Please see the full list of Star Hotel Accommodation hotels in Phuket here)
• Pre-paid RT-PCR COVID 19 tests in Phuket
Note: Full vaccination at least 14 days prior to your departure to Thailand and not more than 12 months.
Key Things to Keep in Mind
• You must stay in a SHA+ accredited hotel in Phuket only.
• You must fly to Phuket from abroad. No transit in Bangkok.
• If you are staying less than 14 days in Phuket, you must fly out of Phuket to an international destination.
• If you are staying for 14 days or more in Phuket, you will then be able to travel to any domestic destination in Thailand.
Frequently Asked Questions
Will it be mandatory to stay in SHA+ hotels only? Can we stay in a friend's house or our own condo?
No, you can only stay in SHA+ accommodation only for the first 14 nights before you can stay in a private accommodation.
Would other people be allowed to visit the traveler during the initial 14-night stay?
Yes, if that person is fully vaccinated or if that person comes from Bangkok, that person must follow Phuket entry requirements for domestic travelers such as having RT-PCR COVID 19 test before traveling to Phuket.
If one wants to go out to a restaurant or a bar in the evening, do you need a guide?
No, you can move around Phuket freely. However, if you want to do other touristic activities, it is advisable to book it through an accredited SHA+ tour operator.
Do travelers still need to apply for the Certificate of Entry?
Yes, anybody traveling to Thailand is still required to obtain a Certificate of Entry (or visa applicable) from the Thai Embassy or Consulate. The process will take at least 3 business up to 15 days.
Do travelers have to stay in the same SHA+ hotel for the full 14 days required on arrival or is it possible to move between several hotels?
Travelers can swap between hotels if they want to, but the hotel must be SHA+ accredited as well. You must stay for at least 7 nights in your first SHA+ hotel before you can move to another SHA+ hotel.
The COVID tests, will that be in the hotel or hospital?
It will be in your hotel and you must pay the COVID 19 tests before applying for COE.
Which insurance plan will meet the entry requirements for tourists to Phuket?
The most popular solution for the type of insurance policy that you need to enter Phuket is the  Luma Thailand Pass  by  Tune Protect Airasia.  This is specialist designed plan for the specific purpose to serve inbound travel insurance requirements for Thailand. The policy insured by Tune Protect Insurance which is a member of the Thai General Insurance Association). 
Why are they so popular? The key benefits: 
• Medical costs of THB 3.5 million (USD 100,000) covered 
• Full cover for COVID-19   
• A range of different plan terms 30 days, 90 days, 180 days and 1 year 
• Simple online application (takes you less than 3 minutes) 
• A range of different cover options available  
• Instant travel certificate issued via email on application (required for Visa) 
• Premiums from just THB 3,500 
Table of Benefits of Luma Thailand Pass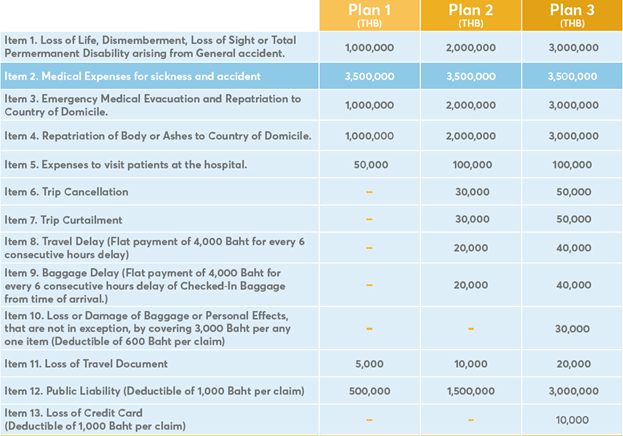 Table of Premiums of Luma Thailand Pass 
Depending the length of your stay in Thailand and your budget, you can choose either 30 days, 90 days, 180 days or even a year for your travel insurance plan. The amount of premium is directly proportional to the length of your stay. The longer your stay, the higher your premiums become. 

Luma Thailand Pass' Terms and Conditions 
Here are the terms and conditions for Luma Thailand Pass travel insurance. Make sure you read them carefully before making the final buying decision. 

Online Application for Luma Thailand Pass 
To apply for Luma Thailand Pass online, just click the button below! 

Here are the types of visa applications that are compatible with Luma Thailand Pass:
• Special Tourist Visas for Thailand