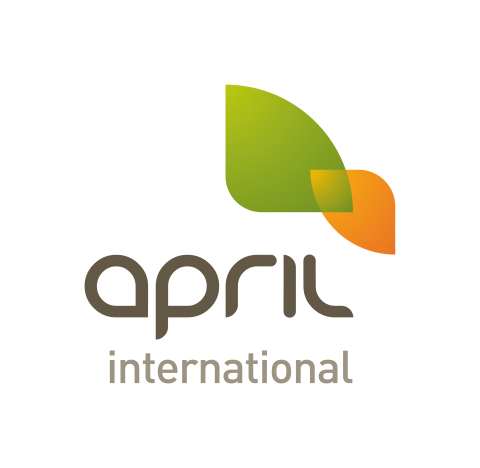 About
April International Care has been specializing in the management of international insurance for over 35 years. Their multilingual advisors and administrators, based in Paris and Hong Kong, deal on a daily basis with the challenges created by international mobility.
Whether it's for a long trip to Asia or a move to the USA, April International Expat provides the most appropriate insurance solution and ensures a rapid and efficient response, whether for the reimbursement of medical expenses, a need for repatriation, the incurring of personal liability or the payment of a daily allowance. The April My Health International plans have proved to be some of the most popular policies for individuals and families in South East Asia. A strong combination of high benefits and low premiums (including family discounts) has meant this is plan that
Since 1975, APRIL International Expat has been providing a range of insurance solutions for people travelling or living outside their home country whether this be international students, globetrotters, expatriates, travellers, employees on assignment and foreign visitors to France.
April International Expat Insurance has been specializing in the management of international insurance for over 35 years. Multilingual advisors and administrators from April International Insurance France which is based in Paris (the headquarters of April) and April International Hong Kong (April International HK) deal with day-to-day challenges created by expatriates all over the world. April International also has other offices including April International Insurance UK based in London, April Insurance Singapore (April Insurance SG), April International Insurance Thailand (April Insurance Thailand).
April International Global Health also caters to expatriates living in Australia, Cambodia, China, Japan, Laos, Malaysia, Myanmar, New Zealand, South Korea and Taiwan.
Plans
What benefits does MyHEALTH Hong Kong offer?
You may be a local citizen, an expat or a permanent resident; either way, this plan is for you! Whether single, a couple, with your family or retired, MyHEALTH offers you flexible and comprehensive international medical cover as well as repatriation assistance benefits for your peace of mind.
Build your own policy from three tiers of inpatient, outpatient, maternity and dental/optical modules. Choose to get either worldwide cover or worldwide cover excluding the USA.
All prices listed are in US dollars (USD).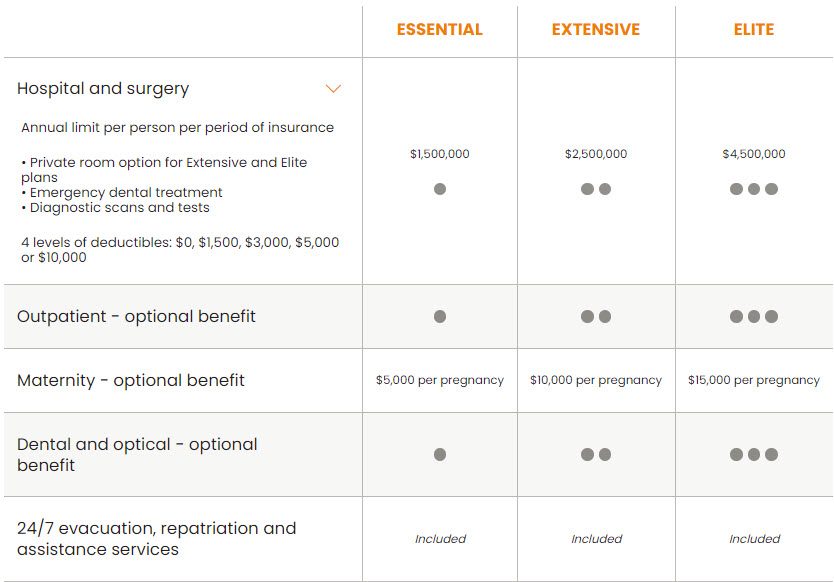 What benefits does MyHEALTH offer in Singapore?
MyHEALTH offers unmatched flexibility in building your own health insurance plan that covers private healthcare costs in Singapore and around the world. Whether you're just looking to top up your cover for hospital bills, or covering expensive diagnostic tests or maternity care, you can pick and choose plan modules that suit your needs.
MyHEALTH provides three main levels from which to select and choose the cover you would like. Essential provides main coverage which is suitable in the event of most illnesses; while Elite provides a wider variety of benefits and features from covering major illnesses to daily expenses. You can select one of these three coverage levels for your hospitalisation & surgery benefits, as well as any optional outpatient, maternity and dental/optical benefit modules.
As an international health plan that's locally admitted in Singapore, MyHEALTH can be purchased by anyone 65 years old or under, including expats, permanent residents and Singaporean nationals. If you already have an international health insurance plan, you can apply on a Continuous Personal Medical Exclusion (CPME) basis, which allows you to switch plans while maintaining the same or similar cover, without needing to complete another medical questionnaire.
All prices listed are in Singaporean dollars (SGD)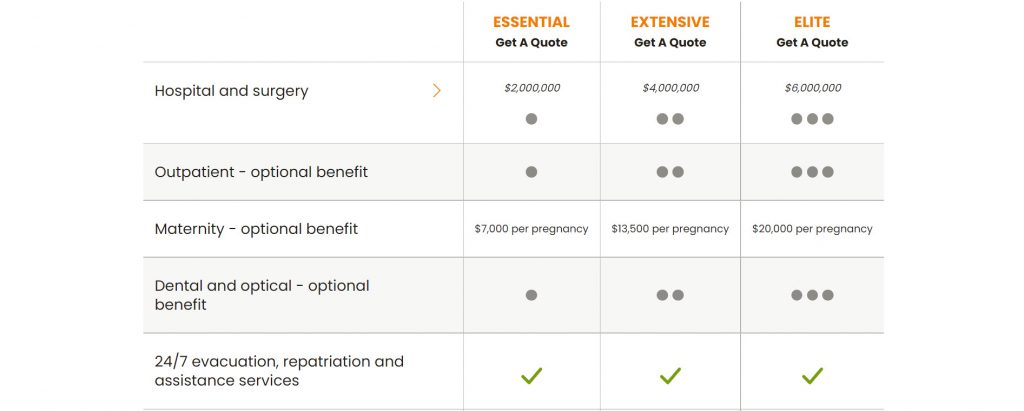 What benefits does MyHEALTH Thailand offer?
Whether you're a Thai national or an expat, MyHEALTH Thailand can offer comprehensive medical insurance benefits for individuals, families and retirees. You can fully customise your own policy by adding outpatient, maternity and optical/dental benefit packages to your inpatient protection plan, as well as choosing essential, extensive or elite levels of coverage for each benefit.
You can also choose your area of coverage from worldwide, worldwide excluding the USA, and ASEAN excluding Singapore to match your budget and needs. Whatever your choices, MyHEALTH offers 24/7 medical assistance, emergency medical evacuation and repatriation, as well as compassionate home travel.
MyHEALTH is underwritten by LMG Insurance Public Company Limited and arranged and administered by APRIL Assistance (Thailand) Co Ltd. Sales are conducted by APRIL Brokerage (Thailand) Co Ltd.
All prices listed are in Thai Baht (THB).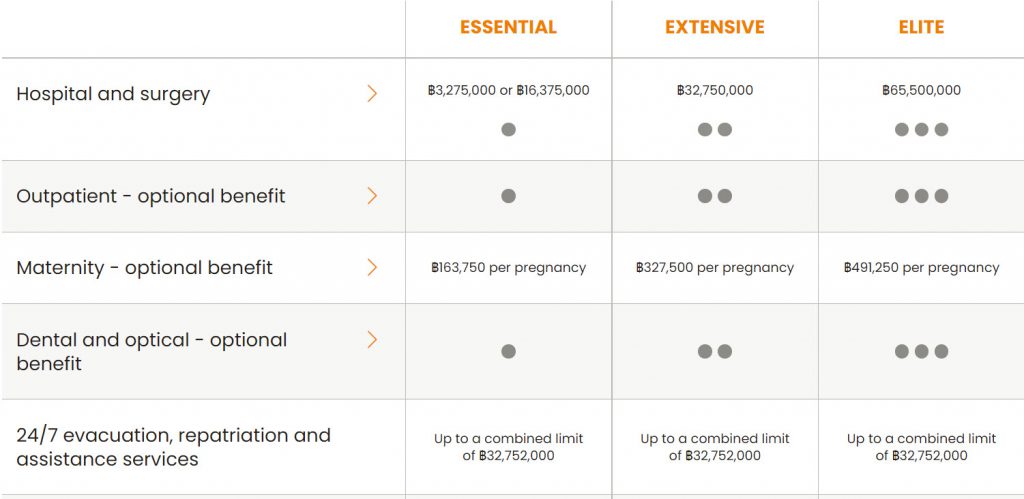 Medical Insurance Claiming
April International have developed a number of claim-related services to make life easier for you wherever you are in the world:
• Direct payment of hospital charges
• Easy Claim app to send medical claims in just a few clicks
• Medical referral (partner healthcare providers)
• Telehealth and second medical opinion
• Direct billing throughout Asia
Furthermore, if you wish to submit a claim, you can get online access to April Insurance Claim Form here.
The April Easy Claim App
Easy Claim, an award-winning app
Best Health Insurance App 2020, Global Banking and Finance Awards
Marketing Initiative of the Year 2020, Insurance Asia Awards
Service Initiative of the Year 2020 (for TeleHEALTH), Insurance Asia Awards
With this mobile app, sending your medical claims and accessing your insurance services has never been simpler.
Submit your medical claims
No matter where you are in the world, you will be able to send all your medical invoices and receipts directly on your smartphone! All you have to do is enter the information related to your claim, take a picture of the required documents and send them with a simple click.
You can review all of your submitted claims by clicking on "Claims History" from your homepage. If your claim hasn't been processed yet, it will appear in the "Claim" column. All your processed claims will otherwise appear in the "Refunds" column. You can click on each claim to display all the relevant information, then click on "View Details" to download your Explanations of Benefits (EOBs).
*Electronic claims submissions are capped at US$400 in the Philippines. In Thailand and Vietnam, original documents will be required to finalise the claims process.
Access your electronic member card
If you are eligible to use APRIL International's Asian direct billing network, you can easily access and download your electronic member card on your smartphone to enjoy cashless access to hundreds of medical facilities in Hong Kong and across Asia. Simply show your eCard at the reception of your healthcare practitioner!
Get in touch with a doctor
Request a call back from a physician for general health questions or even a second medical opinion for more serious conditions directly on the app.
Search medical providers in Asia
You can now search medical providers (doctors, hospitals and clinics) using our GPS function. Simply enter a location, a speciality and/or the name of the medical facility you are looking for. The results will automatically be displayed and you will even be able to check if you are eligible for direct billing in these facilities.
Request a Letter of Guarantee
For hospitalisations and surgeries, you must first obtain a pre-authorisation from APRIL. You can now submit your request for treatment directly on the app. Once we have obtained all the necessary information, we will issue a Letter of Guarantee directly to the healthcare practitioner and will handle the payment of your medical fees.
Access your insurance contacts
Any questions about your policy? Having an emergency? You will be able to find all your APRIL contacts in the "Contact Us" section.
To access all these functionalities, there are only two simple steps to follow:
Step 1: Download the APRIL Easy Claim app on your smartphone:
Step 2: Launch the app and log in with:
• The email address linked to your insurance policy
• The password you chose when you signed up to our Online Portal
April's Telehealth Services
As an APRIL member, you can enjoy TeleHEALTH services:
• Get in touch with a doctor or request a Second Medical Opinion.
• Available in 12 languages (24/7 call back service in English)
In partnership with Teladoc Health
• April is in partnership with Teladoc Health who is a global leader in virtual care
TeleHEALTH services are included in your policy with unlimited number of consultations.
Useful Info
Second Medical Opinion
All APRIL International Care members of one of our Asian plans can benefit from medical and emergency assistance services.
Whether you need a second medical opinion while traveling abroad, need to be hospitalised urgently, or even repatriated to your home country, we will always be there to assist you.
Behind this 24/7 service stands a team of highly qualified professionals with extensive knowledge of medical procedures and emergency situations.
On the whole, April My Health International provides expatriates access to a suite of superb membership services. As an April MyHealth member, you will be offered the following health insurance benefits:

• Direct billing for any inpatient or day patient treatment at hospitals
• Cashless outpatient treatment when you use participating doctors and clinics in April Insurance network of Asian direct billing facilities (also known as April International Doctor List)
• Up to a 15% discount for families
• Portable health insurance policy for expatriates so you can take it with you when you move
• April International Insurance App: April International Easy Claim lets you easily submit your claim for reimbursement of medical costs. To get access to this app, your Customer Zone login information and your invoices are required. Additionally, to make things even simpler, you will then be able to use the fingerprint authentication feature.
• All major health issues are covered including kidney dialysis, cancer and organ transplants
• Access to additional benefits and services including HIV/AIDS Benefit, Chronic Condition treatment, out of area coverage, WorldAware, Bloodcare Foundation and Best Doctors Second Opinion Service.