Flexible workspaces can unlock value for both your employees and your bottom line—regardless of your company size. So how can flexible collaborative spaces in offices benefit them?
In this blog post, we are going to share with you what a collaborative workspace is and its benefits.
What is a collaborative workspace?
In accordance with WeWork, collaborative workspaces are offices where employees of various companies work under one roof. Companies sharing a collaborative workspace can come in all sizes—from growing startups to global enterprises. The space is usually comprised of a mix of private offices and shared common areas that allow employees flexibility throughout their workday.
As a matter of fact, a collaborative space doesn't necessarily mean that your employees will be in a coworking area amid many other companies. In most cases, your company will have a dedicated office—or even several floors. But they'll still have the opportunity to access beautifully designed common areas and top-of-the-line amenities, which can unlock outsize value for your company.
Benefits of Collaborative Workspaces
1. Community Caretaking
In a collaborative workspace, a team is on hand to help with anything you need. If you have questions about the space, technology, amenities, or neighborhood (like where's the best place for a business lunch), you can reach out to the community team, which acts as a dedicated caretaker.
2. Workspace for Your Company Culture
Although a collaborative workspace has been intentionally designed so employees can do their best work, you still have the opportunity to make it your own. Depending on the size of your office, there are various ways to configure the space so it reflects your company. You can hang up your own artwork and bring in your own fixtures, like rugs and lamps. If you have a private floor, there are opportunities to incorporate your branding, logo, and company colors so the space feels uniquely yours.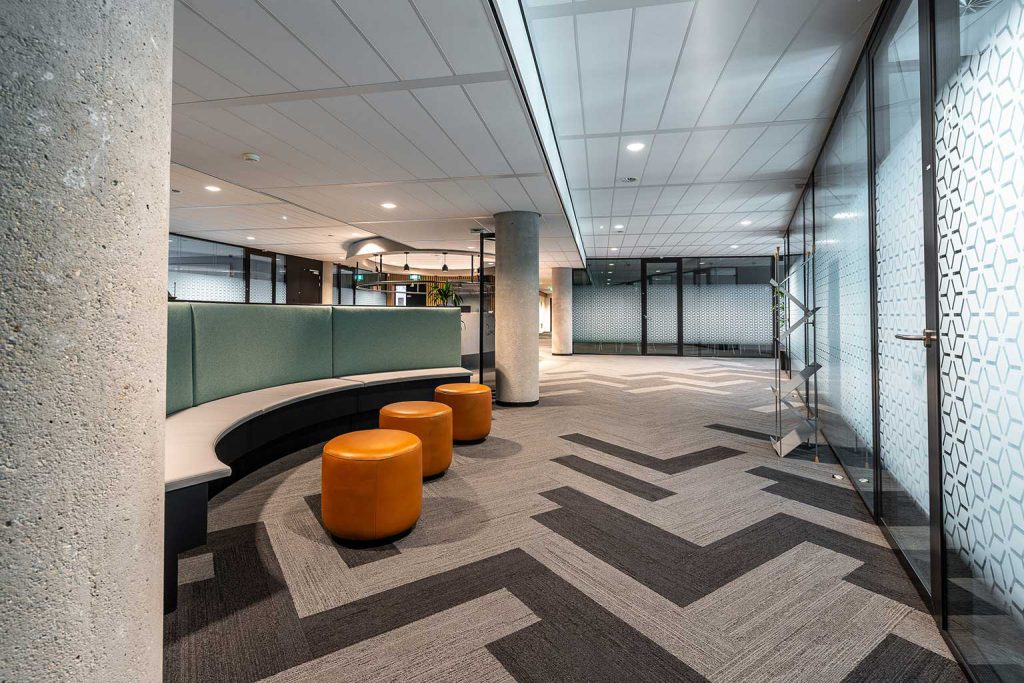 3. Scalability
Regardless of your company size, growth is a primary objective—and collaborative workspaces can help you scale. Building a team in a test market? Going on a hiring spree for a division that is key to your company's success? Opening several new locations around the world in a single year? Arranging teams in a collaborative workspace lets you give them an inspiring place to work together at once.
4. Agility
In today's fast-moving world, agility is necessary. So as to move quickly, your real estate must keep up with your business needs—whether that means opening an innovation lab for a moonshot project, setting up satellite offices in emerging markets, or sourcing a larger space for a successfully growing team. Collaborative workspaces give you that agility. They enable you to grow your business and the number of employees you hire without having to commit to inflexible leases in a more traditional building. With a collaborative space, you have the freedom to change the size of your team or even your location, without much effort or extra cost.
5. Around-the-clock Facilities
If you rent your own office, you have to pay for utilities, office supplies, and additional amenities—plus an office manager and support staff to oversee them. With a collaborative workspace, utilities like water, gas, electricity, and Wi-Fi are included. Most also supply other amenities like coffee and tea, kitchen supplies, printing, and mail services.
6. Cost-efficiency
In many cases, collaborative workspaces can help you cut costs by allowing you to pay for only what you need. For example, if you're setting up a new regional headquarters and have only 10 current employees there, renting a full-floor office would result in wasted space—and cost. By placing those employees in a private office in a collaborative workspace, you're still giving them a dedicated workplace, but only paying for the space they're using. Best of all, you can easily add space as the team grows.
7. Networking opportunities
Although your company has a private office or floor in a collaborative workspace, employees can still access the building's common areas. This gives them the opportunity to network with people from other companies, including entrepreneurs, freelancers, and remote workers. This flow of knowledge and creativity can be a major benefit. In fact, many global enterprises place teams in collaborative spaces so they can absorb new, innovative ideas from others who are not usually in their network.
8. Productive vibe
The workplace has recently become more human-centric. Instead of expecting people to come into an office and spend eight hours a day in a cubicle, companies are providing employees with spaces that suit their work styles. That's why many collaborative spaces have been designed for activity-based working: People can pop into phone booths to make private calls or tackle a project that requires focus. They can have informal meetings at café-style tables. For those who prefer to work in a more casual atmosphere, there are couches and other forms of soft seating. Giving employees the ability to choose when and where they work can result in higher productivity and improved work quality.